"Empowering and inspiring all students to excel as life long learners."
Academic Year-2022 (GOREGAON)
BOMBAY EXHIBITION CENTRE
THE WORLD OF EDUCATION EXPO-2023

CELEBRATIONS:
PICNIC: Veermata Jijabai Udyan-2023
FAREWELL STD-X (2023)
AURAA-2022 ( BONNE SANTE)
3rd December 2022, International Day of Persons with Disabilities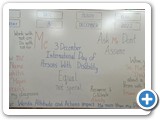 AYAAN , ANVAY, MKP & ADITI -Class Celebration
Open Schooling Celebration
Sports Day
Diwali Celebration
Investiture Ceremony (2022-2023)
International Peace Day is observed worldwide on 21st September 2022

As quoted by Albert Einstein, "Peace cannot be kept by force. It can only be achieved by understanding".
This message was advanced to our dear students in a purposeful manner where they had put in their creative expressions into practice through craft-based activity to describe about the strategies used by them to get peace in their day-to- day life
Krishna Janmashtami
EXAMINATION:
Unit Test
CLASS ACTIVITY:
SPORTS:
School Goes Live......
NEW NORMAL CLASSROOM - :
FAREWELL(STD-X and STD-XII)- 2021